How low can a company go?  If you're Ashley Madison, you can scrape the nasty off the bottom of the barrel.  If you don't know who Ashley Madison is, they are a dating service specializing in discrete married encounters.  In other words, they provide a place where married people can cheat on their spouse. Ashley Madison recently released two newspaper ads that are controversial to say the least.  One ad shows a picture of a plus size model and ask the question, "Did your wife scare you last night?"  The other ad shows a thin model and a plus size model in a competition by checking the box. They have a green check mark next to the thin model and a big red "X" next to the plus size model with the tag, "We call it as we see it."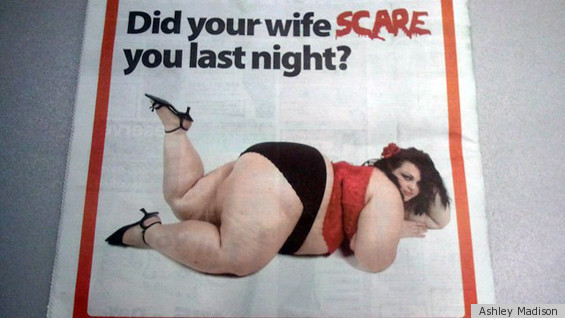 The plus size model, known only as "Jacqueline", expressed her outrage of being exploited in a first-person article for Jezebel.com.  Jacqueline claims the photo being used was taken years ago and unknowingly sold to agencies.  She is outraged knowing her image is being used to promote two things she is adamantly against, cheating and body shaming.
'I find the very idea that there exists a business based solely around the facilitation of infidelity appalling. The fact that they are now suggesting that a person's partner not fitting their ideal body size/shape, entitles that person to 'shop around' is disgusting,' she writes.
The CEO  and founder of Ashley Madison says, "She took these pictures and signed the release knowing that they were not just for "personal use." However, if she can get great publicity from this, all the power to her."
The ads are offensive to all women.  They body shame every one of us.  The thin woman may start to believe, if she gains weight, her man will cheat.  The plus size woman may think that if she doesn't lose weight, he will cheat.  The very heavy woman may think she has no chance at finding love. This is a disgraceful act towards each and every woman.  Ashley Madison needs to crawl back under their rock.